Bailey Love in Horny Strippers Fuck Hard! – Two Tgirls
Bailey Love – Personal Info
Name : Bailey Love
Date of Birth : December 1st
Measurements : 36D – 26 – 35
Height : 5'6 (1.68m)
Hair Colour : Brunette
Eye Colour : Brown
Years Active : 2013 – present
Number of Scenes : 40+
Bailey Love is a beautiful brunette adult film star and model who has been performing in porn since the summer of 2013. During this time, Bailey Love's sizzling scenes for Grooby Girls, Tgirls.porn and Two Tgirls have earned her a keen fan following as well as a notable "Best New Face" nomination at the 2017 Transgender Erotica Awards.
Bailey Love in Room Service Ends In Sex – Two Tgirls
Bailey Love : Adult Film Career
Hailing from Green Bay, Wisconsin, Bailey Love made her official porn debut in August 2013 when she started shooting videos with Tia Tizzianni for her transformation website. Before then, Bailey had been an active member of the online fetish community FetLife under the stage name 'Ananda'. As Bailey explained in her April 2016 TS Dreamland interview;
"Shooting with Tia Tizzianni came first. I did not start my transition until about three months (October of 2013) after my first set with Tia…It started with submitting an application to Tia's transformation website which I did because #1; I love dick and #2; I figured it would be a way to make extra money at the time and Tia seemed like a very good starting point. Since I don't get out much, I figured I could satisfy most of my sex drive with having sex in front of a camera…My first hardcore scene was in 2013 as 'Ananda the Virgin Bride'. That was the first shoot I ever did with Tia…I was extremely nervous mostly because I was afraid I'd be ugly, but Tia was great. She's awesome at helping you feel comfortable and sexy which in my opinion helps make the scenes look better. I don't get nervous anymore when I shoot with Tia since we are good friends now and have a great rapport".
Bailey Love at Tgirls.porn
A landmark moment in Bailey Love's career occurred in the spring of 2016 when she filmed her first ever solo scene for the popular Grooby network porn site Grooby Girls. Titled Meet Bailey Love!, this sultry solo scene was shot by River Stark and released via Grooby Girls in April 2016. Bailey discussed shooting her official Grooby Girls debut during her April 2016 TS Dreamland interview, divulging that;
"In my shoot with GroobyGirls, I would say the only reason I probably didn't start hyperventilating was because River Stark (my photographer) was so very helpful and patient with me and she really knew how to get good shots even if/when I wasn't giving her a lot a good stuff to shoot. I think Tia is an expert at getting her girls in their comfort zone".
Bailey Love in Online Hookup – Two Tgirls
You'll be happy to hear that Bailey Love has filmed many steamy solo scenes for Grooby Girls. We recommend watching Bailey's sensual Stunning Bailey Love Strokes It! scene in July 2016, her saucy Sexy Big Cocked Bailey Love! and Bailey Love's Hot Dildo Play! scenes in February 2017, her sizzling Cumshot Monday: Bailey Love Strokes And Cums! scene in June 2017 as well her kinky Bailey Love Toys Her Ass! and Bailey Love Tastes Her Own Cum! scenes that were both uploaded via Grooby Girls in August 2017. Bailey Love enjoys shooting these sizzling sex scenes and she mentions via her official Grooby profile that;
"I love sex as much as the next person. I love to roleplay and immerse myself into another character. I love being put in fuzzy cuffs and a blindfold. I also love using my crop on a sweet applebottom and seeing how red it can get without turning any other colors. Guys, Cis-girls, trans-girls don't matter to me it's all about the chemistry of your perceptions. I love making any of the aforementioned achieve orgasm".
Bailey Love's Climax! – TGirls.XXX
From late 2016 onward, Bailey Love started filming some scintillating sex scenes with Christian XXX for his fan-favorite porn sites TSPOV.com and Pure-TS.com. We recommend viewing Bailey's immersive Super Sexy Bailey Love Loves The Cock POV shoot for TSPOV.com in September 2016 and her raunchy Bored Newlywed Bailey Fucks Hubby's Workout Partner roleplay with Christian XXX for Pure-TS.com in November 2016. Over the years, Bailey Love has been featured within many of Christian XXX's best-selling CX Wow Studios DVDs such as Up & Cumming TS Starlets (2017), Hung TGirls POV Sex (2018), Tranny Blowies #3 (2018) and SM Threesomes #6 (2018) starring Lily Demure, Jasmine Jacobs, Lena Kelly, Nicolette Phoenix, Nikki Vicious, Roxie Ravage and Taryn Elizabeth. Not to be missed!
Bailey Love at Foot Fetish TS
Bailey Love : Popular Porn Productions
Many of Bailey Love's most popular porn productions have been those that she has filmed for Mayumi Sparkles's critically acclaimed porn site Two Tgirls. You'll love watching Bailey's saucy Club Girls Fuck After A Night Out and Maid Café Waitress Gets Fucked By Customer scenes with Christina Skyye in November 2018 and December 2016, her steamy A Sensual Massage and Porn Pals Meet And Fuck scenes with Chelsea Marie in March 2017 and April 2017, her kinky Routine Checkup Ends In Sex and Stepmom! Please Don't Tell! scenes with Jenny Flowers in May 2017 and June 2017 as well as her raunchy Room Service Ends In Sex and Honey, I Fucked the Babysitter! roleplays with Talia Sonata that were both released via Two Tgirls in July 2017.
Christina Skyye and Bailey Love in Maid Cafe Waitress Gets Fucked By Customer – Two Tgirls
Wait, there's even more. Bailey Love has since shared a scintillating Make Me A Slutty Maid! scene with Kira Crash in August 2017, she filmed a seductive Online Hookup scene with Coco Dahlia in September 2017 and she shot some sensational Tying The Knot and Schoolgirl Gets Detention scenes with Candi McBride which were both promoted via Two Tgirls October 2017 and November 2017. In fact, Bailey Love received high praise from her co-star Candi McBride who enthusiastically stated in a February 2018 XBIZ News press release that;
"Shooting with Bailey was absolutely exhilarating. I have a thing for being 'the naughty schoolgirl,' so this scene was super-duper fun. Bonus points for having never felt more on point in terms of my nails and wardrobe!".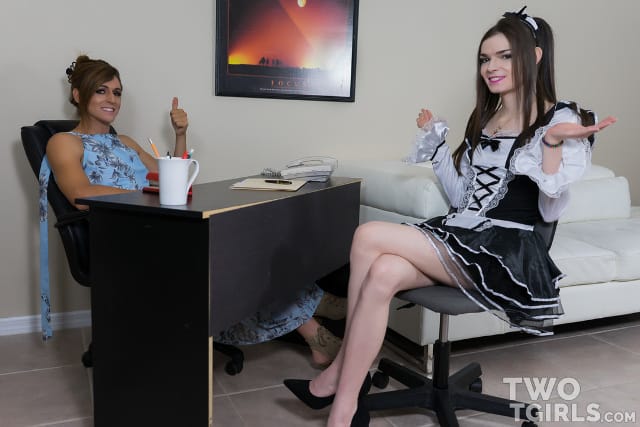 Bailey Love and Kira Crash in Make Me A Slutty Maid! – Two Tgirls
Fans of Bailey Love will also love viewing her sizzling Stepsisters Fuck After A Night Out and Passing Class With Ass scenes with Ally Sparkles in February 2018, her kinky The Dildo Factory: Quality Guaranteed and Roommate Gets Dominated scenes with River Enza in April 2018 and May 2018 as well as her titillating Paying Rent The Hard Way and Horny Strippers Fuck Hard! scenes with Lizbeth Kyo that were unveiled via Two Tgirls in February 2019 and March 2019. In particular, Bailey Love's amazing Horny Strippers Fuck Hard! scene with Lizbeth Kyo was ardently endorsed by prominent porn critic Caramel Black who advocated in her March 2019 Caramel's TGirls review how;
"This update is especially great for lovers of plot driven porn since it picks up where Bailey and Lizbeth left off with this site's previous scene, 'Paying Rent The Hard Way'. It's not a sequel, however. These gorgeous performers are new characters, strippers who have never explored each other's bodies before. Gone is the casual wear of the last scene's introductory sequence to be replaced by authentic looking stripper outfits – lingerie and tall sandals and boots. They lose their tops and footwear first and then help each other out of their panties…Sometimes it's easy for me to decide what updates are better between two performers on the same site. I've compared both of Lizbeth and Bailey's scenes back to back and I honestly can't decide which one is better. They're both extraordinary!".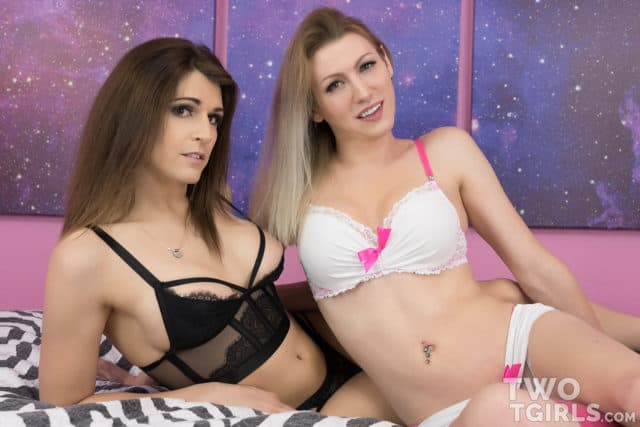 Bailey Love and Lizbeth Kyo in Horny Strippers Fuck Hard! – Two Tgirls
Naturally, many of Bailey Love's hottest Two Tgirls collaborations have been featured in the best-selling DVD compilation titles Two Tgirls #2 (2017) that was nominated for "Trans Release of the Year" at the 2018 XBIZ Awards, Two Tgirls #3 (2017), Two Tgirls #4 (2017), TGirl Schoolgirls #2 (2018) which was nominated for "Best Transsexual Movie" at the 2019 AVN Awards, Two Tgirls #5 (2018) and Two Tgirls #7 (2019) starring Aubrie Scarlett, Jelena Vermilion, Aubrey Leigh, Chelsea Marie, Kami Kartel, Kasey Kei and River Enza. In fact, Bailey Love and her fellow Two Tgirls #7 cast members all received high praise from Two Tgirls CEO/director Mayumi Sparkles who eagerly enthused in a March 2019 AVN press release how;
"All of the girls did a tremendous job and really got into all of their roles. I'm confident our fans will especially love this new installment of the Two Tgirls series. We had incredible immediate feedback as soon as we unveiled the new box cover".
Hold on, it gets even better. Bailey Love's Two Tgirls DVDs have also been ardently endorsed by VIP Digital Media sales manager, David Peskin, who expressed in a July 2017 AVN press release that;
"The Two Tgirls content is a retailers', consumers' and salesman's dream. The talents' performances, the camera work and lighting, the sex and the entire production value in terms of quality is outstanding. We are proud to exclusively distribute and represent this very special product to the marketplace".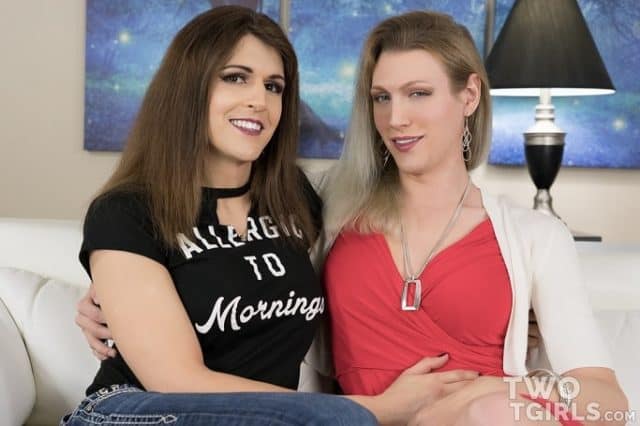 Bailey Love and Lizbeth Kyo in Paying Rent The Hard Way – Two Tgirls
Bailey Love : Best-Selling Movies & Recent Releases
Over the years, Bailey Love has appeared in a wide range of best-selling movies. Our top picks? They'd have to be Bailey's sultry solo scene in the Grooby DVD Bob's TGirls And Their Fucking Machines #2 (2017), her steamy solo scene in Sammi Mancini's Rodnievision movie SM Strokers #89 (2017) that was nominated for "Best DVD" at the 2018 Transgender Erotica Awards and her thrilling three-way with Natalie Mars and Rob Yaeger in the TransErotica release Torrid Transsexual Threesomes (2019) which also stars Lena Kelly, Casey Kisses, Korra Del Rio, Kayleigh Coxx and Khloe Kay. Must see movies for Bailey Love fans!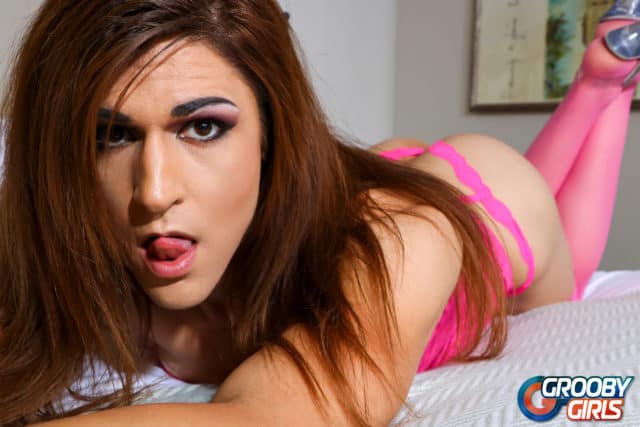 Bailey Love at Grooby Girls
But that's not all. Fans of Bailey Love will also love viewing her sensual trans-lesbian scenes for the Grooby porn site Tgirls.porn. You have to check out Bailey's seductive scene with Valentina Mia in October 2016, her saucy scene with Cassidy Quinn in April 2017 and her scintillating scene with Angela Longcock in September 2019. In fact, Bailey's amazing scene with Cassidy Quinn has since been showcased in the Grooby DVD TGirls Porn #9 (2017) that was nominated for "Best DVD" at the 2018 Transgender Erotica Awards and "Trans Release of the Year" at the 2018 XBIZ Awards.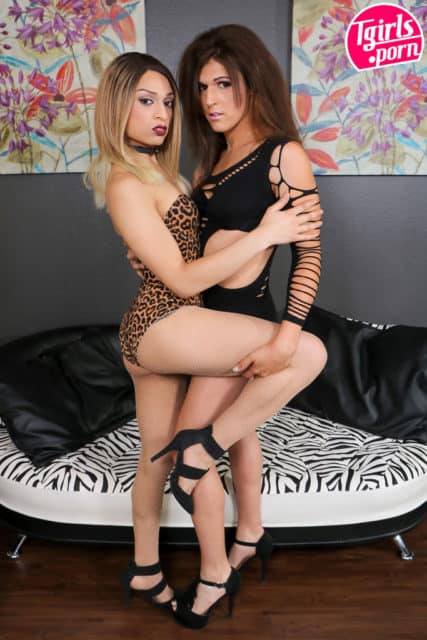 Valentina Mia and Bailey Love – Tgirls.porn
Most recently, Bailey Love has filmed some sensual solo scenes for the Grooby porn site TGirls.XXX. We recommend watching Bailey's saucy Bailey Love Strips And Strokes! scene and her titillating Bailey Love's Climax! scene which were both shot by Omar Wax and released via TGirls.XXX in May 2019 with the tantalizing descriptions;
"Introduced to the world on Grooby Girls three and a half years ago, sexy Bailey Love shot many amazing solo and hardcore scenes with us over the years. Today, she makes her TGirls.XXX debut with a brand new solo scene produced by Omar Wax! Looking sexy as hell and feeling very horny, Bailey brings her dildo and she's about to give that tight ass of hers some nice fucking! Watch her playing with her toy and having fun!…Following her TGirls.XXX debut, gorgeous Bailey Love returns with another hot solo and she brings her favorite toy – a huge dildo that she loves to ride and fuck her tight ass with! Always horny and ready for action, Bailey can't wait to start having fun!".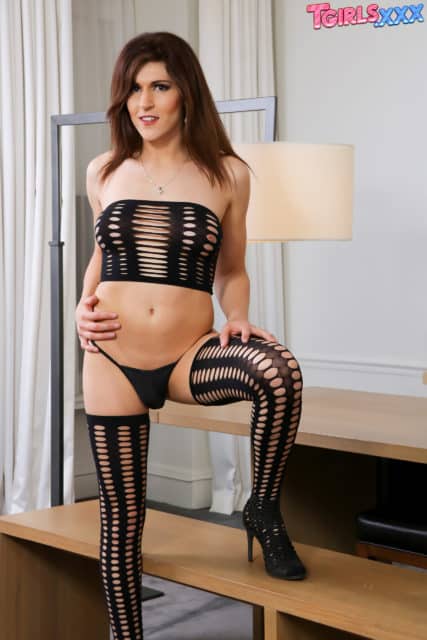 Bailey Love's Climax! – TGirls.XXX
In her spare time, Bailey Love enjoys chatting with her fans via social media and playing disc golf. In fact, when Bailey Love was asked about her hobbies during her April 2016 TS Dreamland interview, she mentioned;
"Day trading penny stocks and disc golf. I actually recently just spent four whole days disc golfing at five different course in my area. Disc golf is my yoga (at least until I start missing 10 foot putts. Then it's time to quit)".
Keen to stay connected with brunette beauty Bailey Love? Then use the links provided below to discover all of Bailey Love's hottest sex scenes, exclusive web content and upcoming projects!
Bailey Love – Social Networks
Twitter : @baileylove69
Foot Fetish TS : Bailey at Foot Fetish TS
Grooby Girls : Bailey at Grooby Girls
ManyVids : BaileyLove6969
Tgirl Playtime : Bailey at Tgirl Playtime
Tgirls Porn : Bailey at Tgirls.porn
TGirls XXX : Bailey at TGirls.XXX
Trans Erotica : Bailey at Trans Erotica
Two Tgirls : Bailey at Two Tgirls
Adult Empire : Bailey's DVDs
Originally posted at XXX Bios