Paty Cameron in Busting On The Balcony – Trans Angels
Paty Cameron – Personal Info
Name : Paty Cameron
Alias : Isis Braga, Dani Peterson, Pati Cameron
Date of Birth : October 25th
Measurements : 34C – 25 – 36
Height : 5'6 (1.68m)
Hair Colour : Blonde/Brunette
Eye Colour : Brown
Tattoos : A Miriam's hand design on the inside of her left forearm, a red flower on the right side of her lower abdomen, 'Family' script on the right side of her ribcage, 'Claudia, my mother my life' script around her right forearm, initials and a small red heart along the outside of her left wrist and a dreamcatcher design on her right calf
Piercings : Navel and right nipple
Years Active : 2018 – present
Number of Scenes : 20+
Paty Cameron is a beautiful busty blonde Brazilian pornstar who made her industry debut in late 2018. In this short space of time, Paty Cameron has attracted a loyal global fan following due to her sizzling sex scenes for Brazilian Transsexuals, Evil Angel, Trans Angels and Trans 500.
Paty Cameron in Isis, A Very Hot Cumback! – Frank's TGirl World
Paty Cameron : Adult Film Career
Hailing from Rio de Janeiro, Brazil, Paty Cameron made her official porn debut in late 2018 and she is credited in some of her initial porn productions as 'Pati Cameron', 'Dani Peterson' and 'Isis Braga'. Many of Paty Cameron's earliest sex scenes were filmed for the popular Grooby porn site Brazilian Transsexuals. It all started in September 2018 when Paty shot a sultry Pati Cameron solo scene that was directed by Louis Damazo and released via Brazilian Transsexuals with the hot description;
"Perfect TS for the ones who enjoy tiny and oh so feminine t-models. She is so cute and attractive and has a way to seduce guys that is totally impossible to resist. Our mission here is to provide all kinds of styles with Brazilian t-models and we have no doubt that this one will make a huge legion of fans. Some hot hardcores coming up soon".
Paty Cameron at Brazilian Transsexuals
Fans of Paty Cameron will also love watching her steamy scene with Alessandra Matarazzo which was uploaded via Brazilian Transsexuals in September 2018, her sizzling scene with Cacau di Paula in November 2018 and her seductive TS Baby Isis Braga Is Back solo scene in December 2018. Paty has since shot a sensual Paty Cameron In Hot New Solo scene in September 2019, she filmed a titillating scene with Adrielly Broze in September 2019, she shared a saucy scene with Alexia Rios in October 2019 and she starred in a scintillating Returning In New Solo Sexy Paty Cameron scene that was released via Brazilian Transsexuals in November 2019. Must see sex scenes for Paty Cameron fans!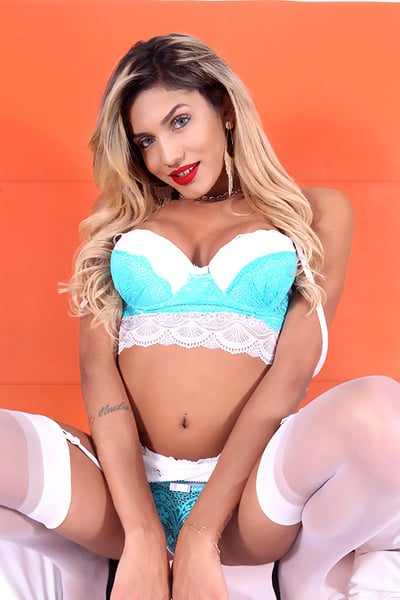 Paty Cameron in Bareback Baby – Trans 500
During this time, Paty Cameron also started to shoot a wide range of sultry solo scenes and hot hardcore content for the fan-favorite Grooby porn sites Brazil TGirls XXX, Frank's TGirl World and GroobyVR. You'll love viewing Paty Cameron's steamy Isis Braga's Orgasm! solo scene for Frank's TGirl World in September 2018, her sizzling scene with Marcus for Brazil TGirls XXX in September 2018, her seductive Isis, A Very Hot Cumback! solo scene for Frank's TGirl World in September 2019 and her immersive Paty Gets Pounded! virtual reality sex scene which was unveiled via GroobyVR in October 2019. As the scene description hotly hints;
"Sometimes a horny blonde bombshell is just what the doctor ordered, and Paty Cameron seems to fit that bill with her sexy slim body and long legs just aching to wrap around you! Dressed to the nines in black lingerie this hottie wastes no time getting your cock out and her bright red lips around them, 'would you like a blowjob sir?' she purrs. Oh, and that irresistible ass, soon you're fucking Paty as she mounts you and rides you like a bull at a rodeo! It's a great day when Paty Gets Pounded!".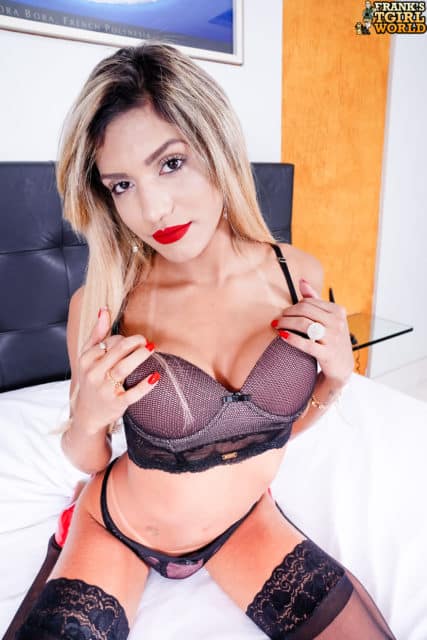 Paty Cameron in Isis, A Very Hot Cumback! – Frank's TGirl World
You'll also love immersing yourself within Paty Cameron's intensely alluring Spring Breakers VR group sex experience with Hanna Rios and Bronze as well as her sensual Against The Wall VR roleplay scenes that were both released via Virtual Real Trans in March 2019. As the scene description for Against The Wall raunchily reveals;
"The worst thing that could happen to sensual Paty Cameron, as well as not having internet connection, is not being able to sleep because of her neighbors. On VirtualRealTrans we recommend trying alternative methods to sleeping pills to get some rest. Luckily for her, this well-gifted Brazilian just needs to listen to them fucking to find the right motivation to masturbate her hard ass with a dildo. If you have some trouble sleeping, there's nothing a pair of Oculus Go and an adventure in VR Trans Porn can't solve".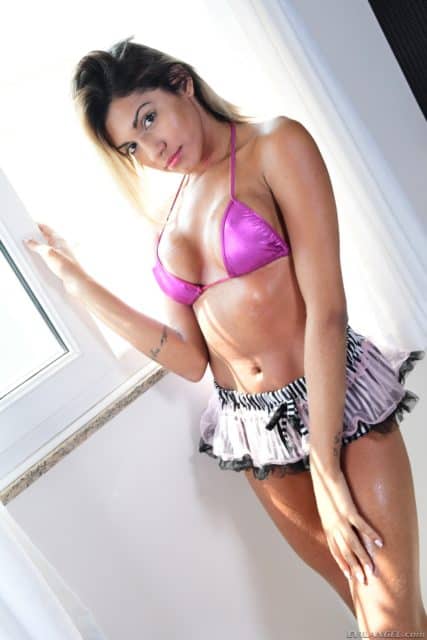 Paty Cameron (aka Isis B) in Trans-Active (2019) – Evil Angel
Wait, there's even more. Fans of Paty Cameron will also love watching her sultry solo scene in Sammi Mancini's Rodnievision movie Tranny Panty Busters #11 (2018), her sizzling Bareback Baby scene in the Trans 500 DVD Brazilian TGirl Showcase #4 (2019) that features Paty on its box cover, her saucy Busting On The Balcony scene with Ivan Bueno which was released via Trans Angels in August 2019 and her thrilling three-way with Yasmin Dornelles and Tony Lee in the Evil Angel movie Trans-Active (2019) that also stars Alex More, Ally Sparkles, Chanel Santini, Cherie DeVille, Daisy Taylor, Manow C and Ninfe Nathy. As the DVD description saucily states;
"Transsexual porn pioneer Joey Silvera presents vibrant, gender-bending sweethearts in the decadent Trans-Active. Six hardcore scenes star sexy TS temptresses in steamy encounters with bold male studs and adventurous, cisgender ladies…TS Yasmin Dornelles reams T-doll Isis [Paty]'s tight butthole in a wild anal threesome with their boyfriend, Tony Lee".
Want to stay updated on all of Paty Cameron's hottest sex scenes, exclusive web content and upcoming productions? Then use the links provided below to stay connected with your favorite Brazilian blonde bombshell Paty Cameron!
Paty Cameron – Social Networks
GroobyVR : Paty Cameron VR Scenes
Brazil TGirls XXX : Paty at Brazil TGirls XXX
Brazilian Transsexuals : Paty (aka Pati Cameron) at Brazilian Transsexuals
Evil Angel : Paty (aka Isis B) at Evil Angel
Frank's TGirl World : Paty (aka Isis Braga) at Frank's TGirl World
SMClub : Paty at SMClub
Trans Angels : Paty at Trans Angels
Trans 500 : Paty at Trans 500
Virtual Real Trans : Paty at Virtual Real Trans
Adult Empire : Paty Cameron DVDs
Originally posted at XXX Bios